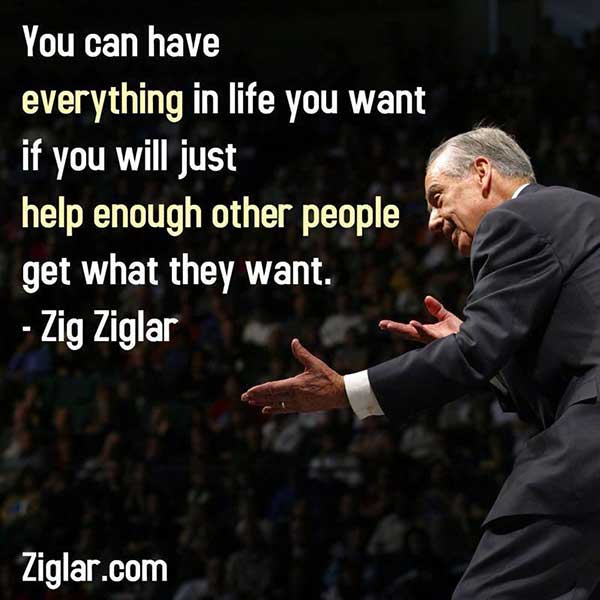 Affected at a very early age by the death of his father, Zig Ziglar learned firsthand the importance of self-reliance and a balanced work ethic. This foundation would eventually become his motto of: "You can have everything in life you want if you will just help enough other people get what they want."
Recognized by his peers as the quintessential motivational genius of our times, Zig Ziglar's unique delivery style and powerful messages have earned him many honors and today he is considered one of the most versatile authorities on the science of human potential. As a patriot he was recognized three times in the Congressional Record of the United States for his work with youth in the drug war and for his dedication to America and the free enterprise system. Titans of business, politics and sports consider him to be the single greatest influence in their lives
To Learn how the Ziglar Legacy Programs can change your business and your life complete the form to the right

From humble beginnings in Yazoo City, Mississippi, to the Hall of Fame in Sales and Marketing, Zig Ziglar's career was one of consistent accomplishments. The earliest victories in large national sales organizations and a professional speaking career that allowed him to traverse this globe are the foundation upon which the corporation that bears his name is built. In July 2001 the National Speakers Association honored Zig Ziglar with their highest award, "The Cavett."
Since 1970, individuals and institutions have utilized an extensive collection of Ziglar audios, videos, books and training curriculum. The client list of Ziglar, Inc., reads like a who's who in American and global business. Ten of his thirty-three books have been on the best-seller lists and his titles have been translated into more than forty languages and dialects.
As a motivational teacher and trainer, Zig Ziglar is still rated by his peers – as well as audiences everywhere – as one of the best and most versatile ever. He traveled the world over, delivering his messages of humor, hope and enthusiasm to audiences of all kinds and sizes.
Besides the books he's written, Zig Ziglar's practical, tri-dimensional philosophy has been incorporated into an extensive array of audio, video and printed training tools, in addition to seminars and workshops.
Zig was happily "over-married" to his wife of 65 years, Jean, whom he lovingly called "Sugar Baby." He was a committed family man, a dedicated patriot, and an active church member. He was chosen by the Mississippi Broadcasting Association as "Mississippian of the Year" in 1985 and as "Communicator of the Year" by the Sales and Marketing Executives International in 1991. In April of 1995 he received his Honorary Doctor of Humanities from Oklahoma Christian University of Science and Arts, and was named an Ambassador of Free Enterprise by Sales & Marketing Executives International Academy of Achievement. He was recognized as one of the Toastmasters International Five Outstanding Speakers of 1997 for Contributions to the Art of Public Speaking and in 1998 he received the Sales and Marketing Executives Leadership Award and an Honorary Doctor of Letters Degree for Contribution to Literature on Human Potential from Southern Nazarene University. In August 1999 he received the National Speakers Association Master of Influence Award and the Toastmasters International Golden Gavel Award. In 2001 he was selected to receive the Cavett Award, the National Speakers Association's most cherished award, presented annually to the member whose accomplishments over the years have reflected outstanding credit, respect, honor and admiration in the Association and speaking profession.